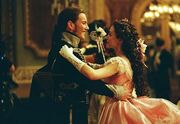 These are the lyrics for "Masquerade", a song from "The Phantom of the Opera". Enjoy!
Masquerade!
Paper faces on parade!
Masquerade!
Hide your face, so the world will never find you!
Masquerade!
Every face a different shade!
Masquerade!
Look around, There's another mask behind you!
Flash of mauve...Splash of puce...
Fool and king...Ghoul and goose...
Green and black...Queen and priest...
Trace of rouge...Face of beast...
Faces!
Take your turn, take a ride on
The merry-go-round in an inhuman race!
Eye of gold...Thigh of blue...
True is false...Who is who...?
Curl of lip...Swirl of gown...
Ace of hearts...Face of clown...
Faces!
Drink it in, drink it up
'Til you've drowned in the light, in the sound!
But who can name the face?
Masquerade!
Grinning yellows, spinning reds!
Masquerade!
Take your fill - let the spectacle astound you!
Masquerade!
Burning glances, turning heads!
Masquerade!
Stop and stare at the sea of smiles around you!
Masquerade!
Seething shadows, breathing lies!
Masquerade!
You can fool any friend who ever knew you!
Masquerade!
Leering satyrs, peering eyes!
Masquerade!
Run and hide, But a face will still pursue you!
Ad blocker interference detected!
Wikia is a free-to-use site that makes money from advertising. We have a modified experience for viewers using ad blockers

Wikia is not accessible if you've made further modifications. Remove the custom ad blocker rule(s) and the page will load as expected.